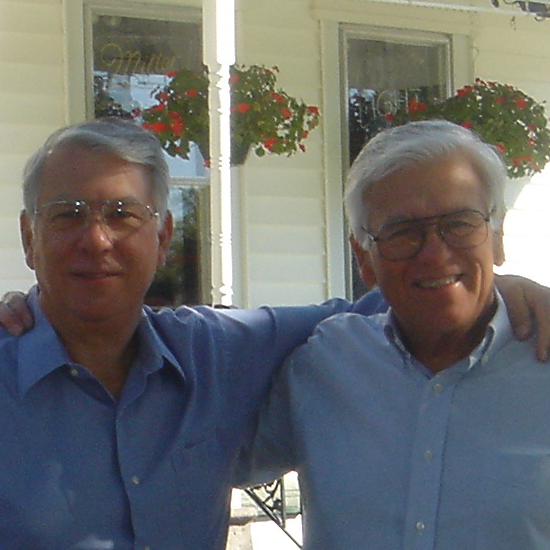 CATHERINE MANZULLO MEMORIAL SCHOLARSHIP | Donald and Freda Manzullo
Scholarship contact: Donald and Freda Manzullo
Catherine Manzullo's sons, Don and Freda Manzullo and Frank and Mary Ann (now deceased) Manzullo established this scholarship in 2000 in their monther's memory.
Don graduated from American University, Washington, D.C. in 1967 and from Marquette University School of Law in 1970. He practiced law in northern Illinois until 1992, when he was elected to the U.S. House of Representatives, where he served until 2013. He was president of Korea Economic Institute of America from 2013 until 2018. He is presently an adjunct instructor at Rockford University and a co-founder of the Institute of World Affairs and Trade at Rockford University. He and Freda live in Rockford.
Frank attended Rockford School of Business and served in the U.S. Army. When he completed service in the Army in 1965, he and his parents, Frank, Sr and Catherine, established Manzullo's Famous Italian Restaurant, just south of Rockford. Frank developed and trademarked Spaghitzza, which he served at the restaurant. He attended RVC and taught bar tending at RVC for several years. He is active in Winnebago County Township government.
CATHERINE DIGIROLOMO MANZULLO 1913 – 2000
Catherine DiGirolomo Manzullo was born in 1913 in Racine, Wisconsin, the daughter of Vito and Carmela DiGirolomo, who emigrated to the U.S. from Italy around the beginning of the Twentieth Century. Catherine and her five sisters and one brother were born in the U.S. When Catherine was 6 or 7 the family moved to Rockford. She attended Rockford Central High School, but dropped out before she finished her sophomore year, to seek employment to help her family during the Great Depression. She met her future husband, Frank Manzullo, as kids in South Rockford. She and Frank dated for ten years, were engaged for 3 of those years, waiting for "better times" to come before they got married. Finally, in 1940, they married. Frank worked at war-production during WWII, and Catherine raised their two sons, Frank, Jr, born in 1942 and Don, born in 1944.
In 1950 Frank and Catherine became owners of Frank's Port Market, located across the street from the old Morris Kennedy School, then Ken Rock Community Center, on South 11th Street on Rockford's SE side. The two of them help settle hundreds of families coming from war-torn Europe and from Arkansas, which was experiencing a drought. These families came to Rockford looking for work in manufacturing. The Manzullo's extended credit for grocery purchases, helped families find homes and jobs, and became angels to these destitute families. Hundreds of these families showed up at the funerals for Frank in 1987 and Catherine in 2000. Frank and Catherine expressed to their sons the importance of education and how they wished they had had the opportunity to finish high school. They purchased the World Book for the boys, and spent a lot of time sharing articles with them. They taught the boys to read when they were between 4 and 5 years old.
In 1956 Frank and Catherine purchased the old Rosecrance Children's Home in New Milford. This was the first home for the Rosecrance Health Network, and served as a orphanage for boys. Frank remodeled the home, and the family moved into it several months later. In 1957 Frank and Catherine founded the Shady Mill Drive In Restaurant, one of the first drive in restaurants in Winnebago County. That operated until 1970. In 1965, they turned the family home into Manzullo's Famous Italian Restaurant which they operated with their son, Frank, Jr., until it closed in 2005. Their son, Don, was elected to the U.S. House of Representatives in 1993 and served until 2013. Frank, Jr. serves on several Winnebago County boards and each year heads up a massive environmental cleanup for the area.
Frank and Catherine loved education. They were avid readers. They also loved classical music and operas and had a collection of old 78 records. They passed that love of music and education onto their sons along with the importance of civic responsibility. Catherine decided to get her GED and enrolled at Rock Valley College (RVC). She attended school there around 1967 when the school first opened. She attended classes during the day and got to know a lot of students who were in their teens. They wanted her to run for Prom Queen or something like that, but she declined! She obtained her GED and then took several courses at RVC. Catherine's son, Frank, Jr. took courses at RVC and then taught bar tending for several years at the school. Two of Catherine's grandchildren, Frank III and Mary Manzullo Flynn took classes at RVC. Mary Manzullo Flynn has been associated with RVC since 2005 and is now an Associate Professor of Education and Early Childhood Education.
Catherine loved Rock Valley College. She was quite conservative in her politics, but she always voted to raise her taxes to support RVC. She said RVC made Rockford a real community where people could fulfill their dreams and get a quality education that was still affordable. When she died in 2000, RVC became the recipient of a a good share of her memorial fund. Each year, people give to keep the Catherine Manzullo Memorial Scholarship Fund available for those in need. The Manzullo boys are proud of the fact that she signifies what RVC is all about: the daughter of immigrants receiving her high school diploma and taking college courses. Her first love for the community now bears a scholarship in her name. What an honor.