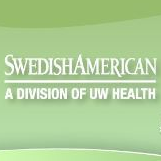 SWEDISH AMERICAN HEALTH SYSTEM | Jennifer Maher, President & CEO
Donor Contact: Jennifer Maher, President & CEO of the SwedishAmerican Health System. For more than a century, SwedishAmerican has grown with the region they serve. Through the struggles and contributions of countless individuals, and the pioneering efforts of early medical professionals, they have evolved into the today's organization.Though treatments and technologies have changed since1911, their commitment has not. They have grown to a health system that serves hundreds of thousands of patients every year.
SwedishAmerican is a division of UW Health, an organization with a common mission, vision, values and culture. Every day, dozens of specialists from UW Health are right here in Rockford. These leading physicians help patients with cancer and heart disease. They perform complex robotic surgeries and help children beat the odds. These amazing specialists work alongside the region's most preferred doctors here at Swedes. Together, they're a remarkable team.
JAMES & SHIRLEY WADDELL/SWEDISHAMERICAN HEALTH SYSTEM SCHOLARSHIP
This is a shared scholarship with the SwedishAmerican Health System and James & Shirley Waddel in recognition of Jim Waddell's 24 years of service on the health system's Board of Directors and the continuing need for trained nurses in our community. From the early 1980's through 2007, under the leadership of Dr. Bob Klint and Dr. Bill Gorski, the SwedishAmerican Health System went from a distant third place market share to being recognized as the best health system in the area.