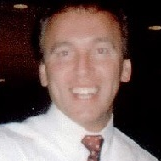 INTERNATIONAL ASSOCIATION OF FIRE FIGHTERS LOCAL 413 | Mr. Christopher Scrol, President
Scholarship Contact: Christopher Scrol, President of the International Association of Fire Fighters Local 413
KEVIN ROBERT MCINTYRE 1958 – 2004
This scholarship was established in memory of District Chief Kevin R. McIntye. Kevin was the son of Robert W. and Mary Jane Verona McIntyre. He married Megan Johnson in 1982, in Rockford. They had two children, Alex and Molly. In April of 2004, Kevin died of a heart attack at the age of 45.
Kevin was a firefighter in the Rockford Fire Department for 24 years. In 1984 he received is associate's degree in fire science from Rock Valley College. He then completed course-work in fire service administration and technology at Western Illinois University, receiving his bachelor's degree in fire science in December 1990. While completed these degrees, he attained the rank of lieutenant in January 1987, captain in January 1993 and district chief in January 1996. Kevin was one of the youngest every to hold that rank.
He was very involved in his community' volunteering for agencies like Big Brothers' the Make-a-Wish Foundation' and Rockford Area Crimestoppers. He was awarded the Crimestopper of the Year award.